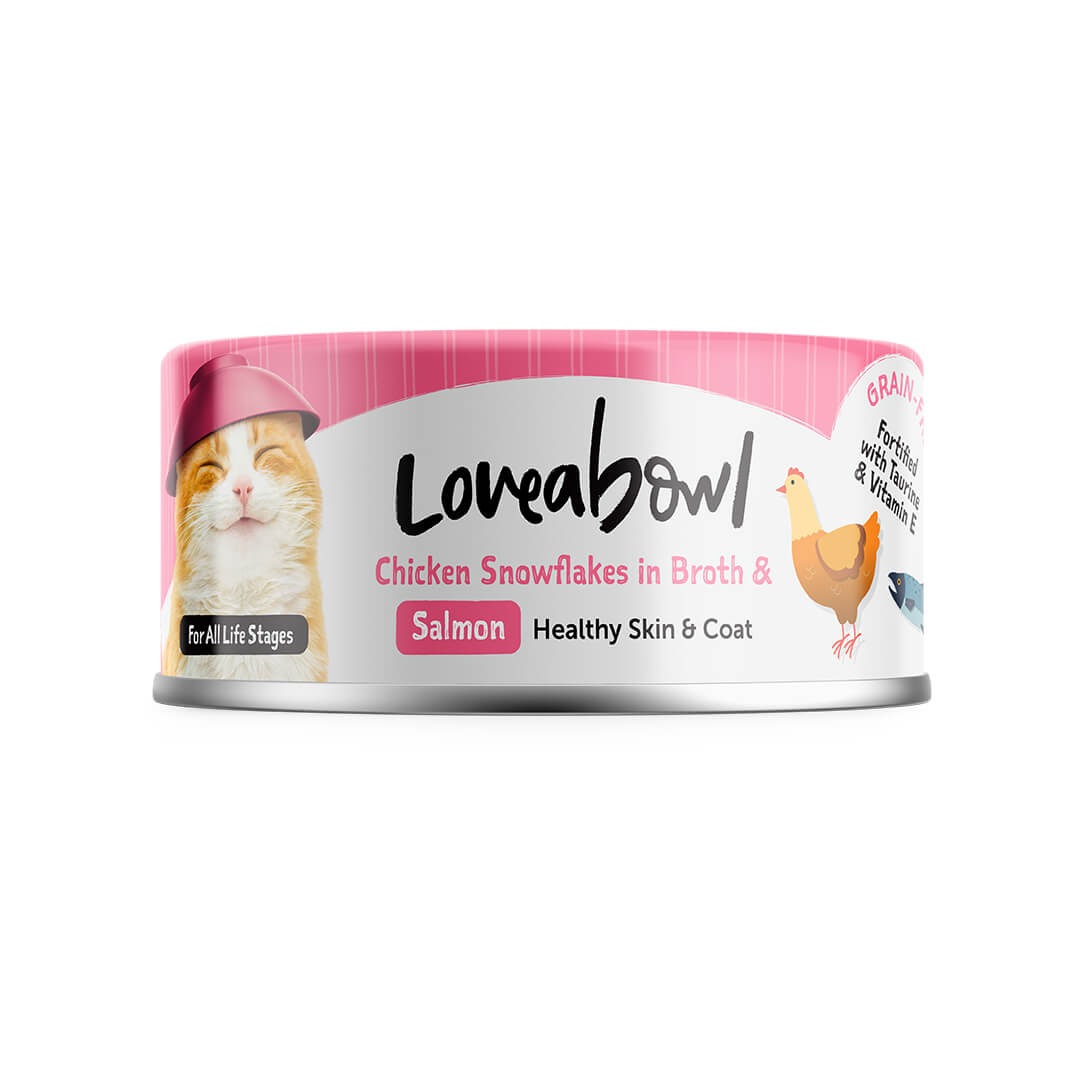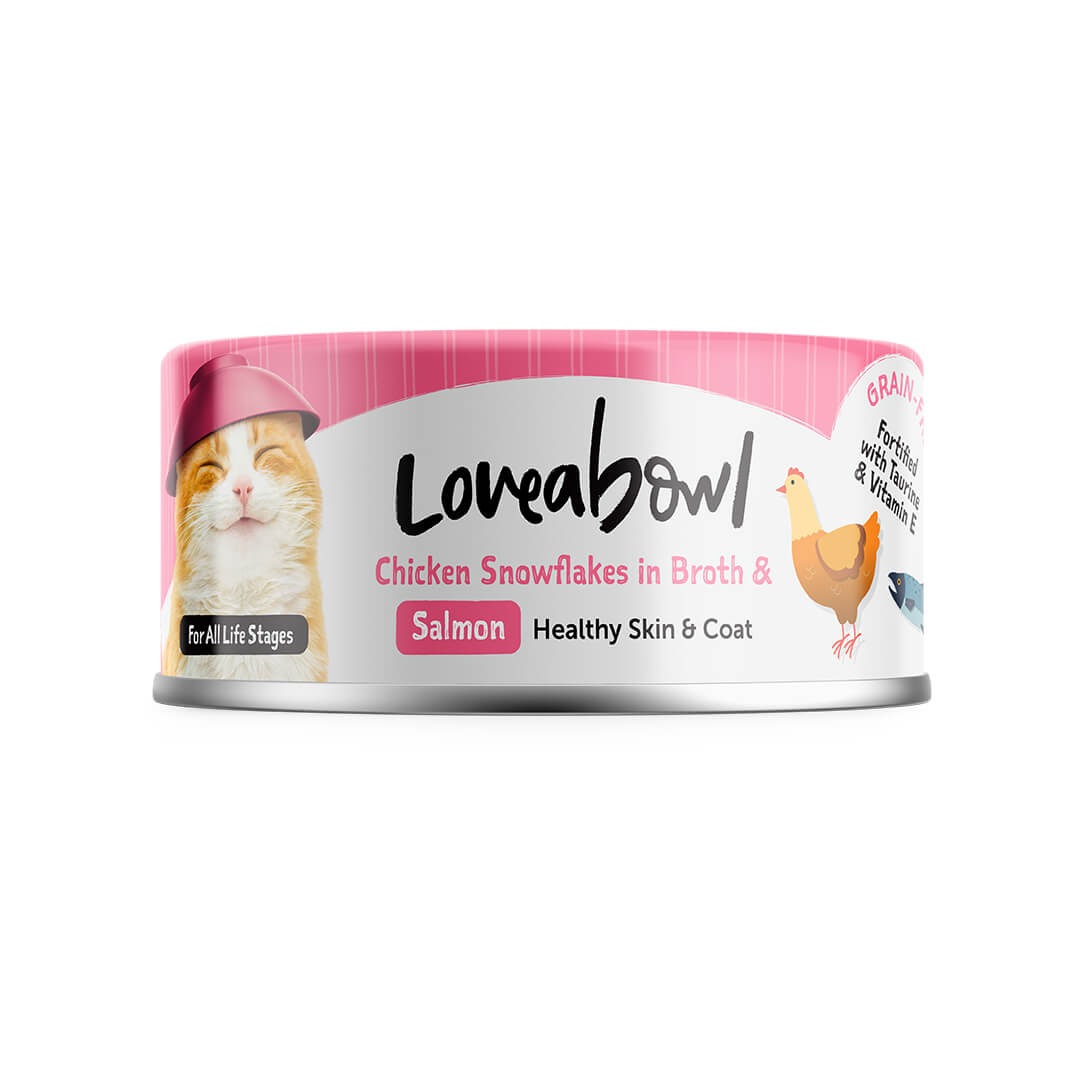 Chicken Snowflakes in Broth with Salmon
For Cats at All Life Stages
A delish meal catered for your little furry kitties minus the grains, carrageenan, and thickening agent. Contains Taurine & Vitamin E, making it a healthy choice, so you know that you are putting only the good stuff in their mouth. Achieve a healthy skin and a shiny coat on your cat babies by feeding them salmon.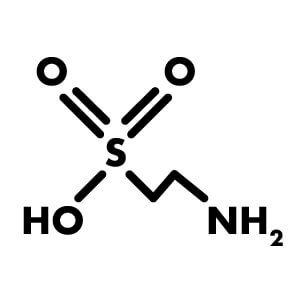 Fortified with Taurine
No GMO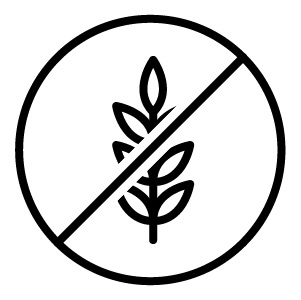 Grain Free
Benefits
Key Benefits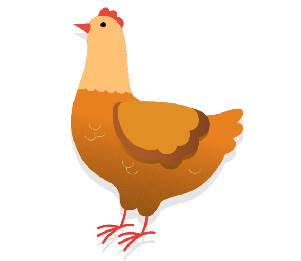 Chicken
A great source of protein that contains Omega-6 fatty acids and Glucosamine. Good for skin and coat health.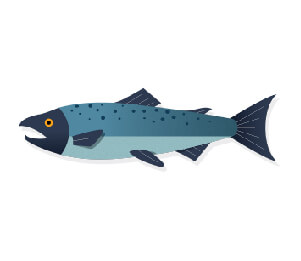 Salmon
Good for cats because it's high in protein, Omega-3 fatty acids and nutrients.
Additional Benefits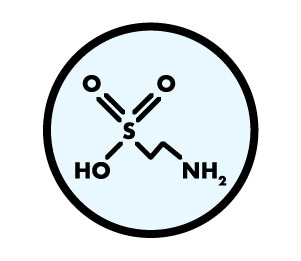 Taurine
An amino acid that is critical for normal heart muscle function and good eyesight.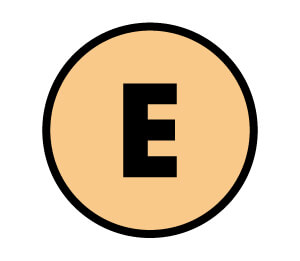 Vitamin E
Essential for the optimal health of cats.
Ingredients
Chicken, Broth, Salmon, Vitamin E and Taurine.
Guranteed Analysis
Crude Protein (Min) 13%
Crude Fat (Min) 0.7%
Crude Fibre (Max) 1.0%
Moisture Content (Max) 85%
ME (kcal/100g) 67
Feeding Guide
Recommended Daily Feeding
| Weight(kg) | Feeding Amount (g/day) |
| --- | --- |
| 1.0 – 3.0kg | ¼ – ¾ can |
| 3.0 – 5.0kg | ¾ – 1 can |
| 5.0 – 8.0kg | 1 – 1½ can |
| 8.0 – 10.0kg | 1½ – 1¾ can |
The amount fed can be adjusted according to your cat's activity level.
Feed your cat by dividing all daily meals into 2 or more servings and ensure fresh clean water is available at all times.
Our Loveabowl cat wet food, though delicious and nutritious, is NOT A COMPLETE DIET.
We recommend that you pair it with our complete & balanced Loveabowl kibbles to provide all the nutrients your cat needs.
Product Reviews
4 Rating(s)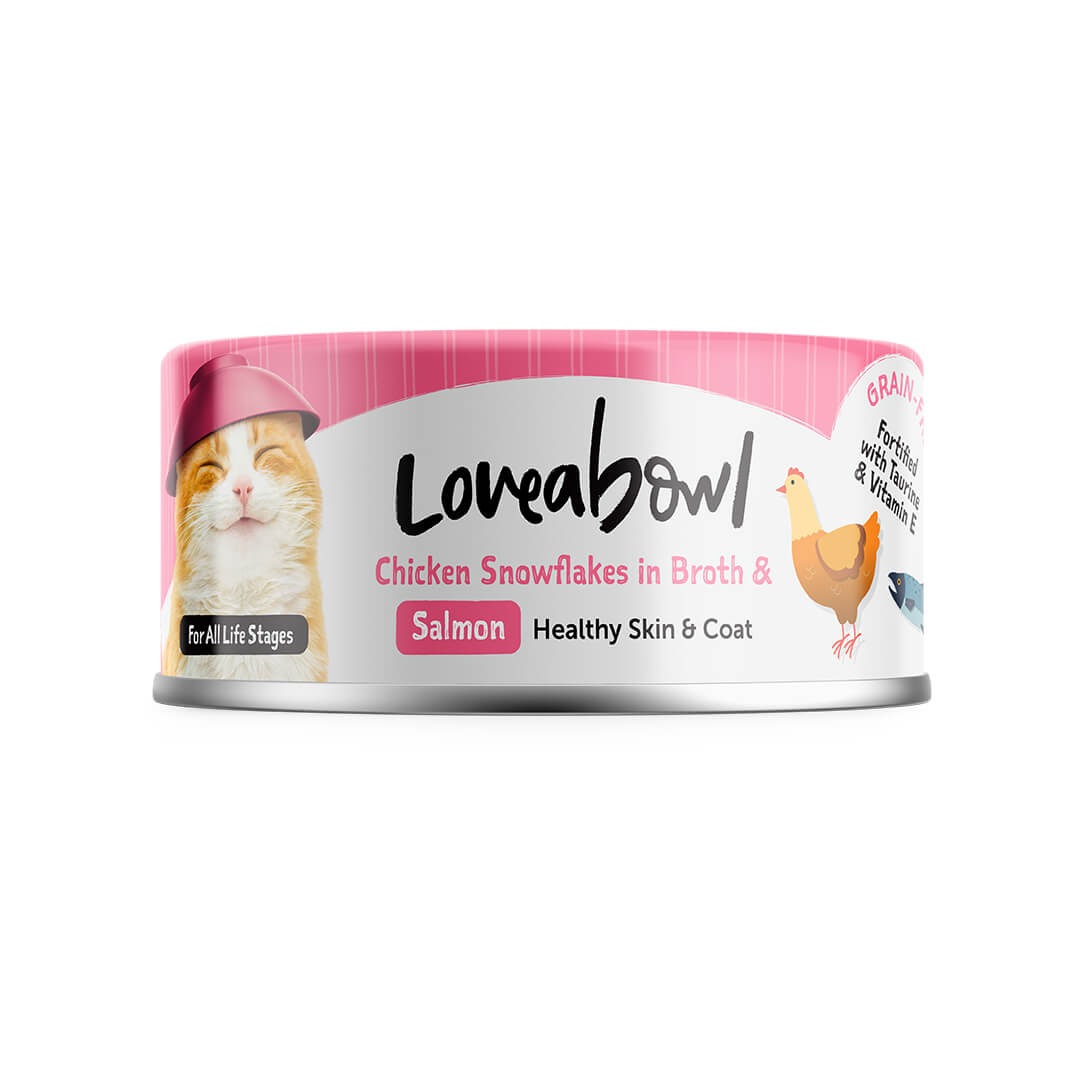 Variation: Chicken Snowflakes in Broth with Salmon | Cat
First time purchase, My cat seems to like it! We both love chicken and salmon! It will be good if it comes in a bigger size.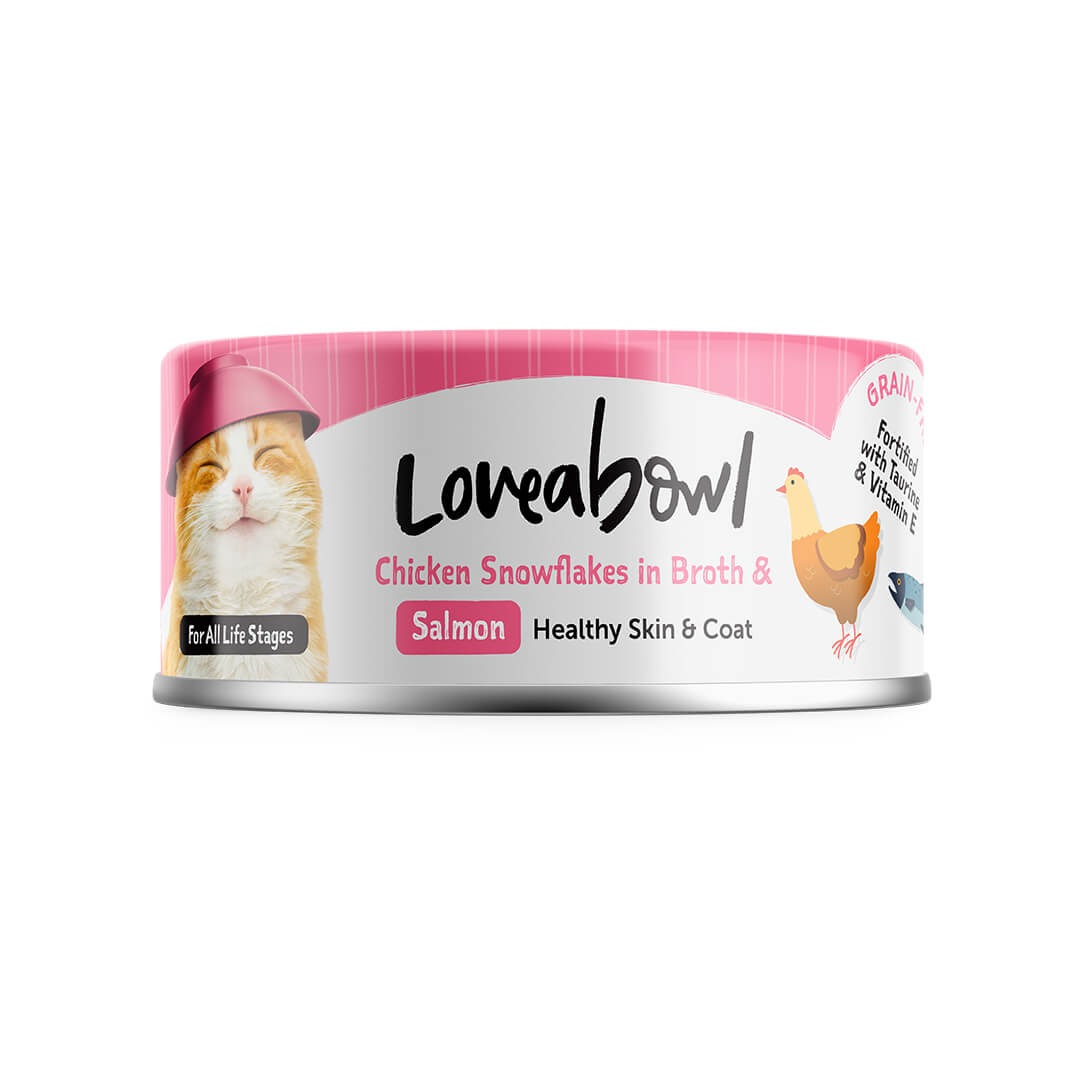 Variation: Chicken Snowflakes in Broth with Salmon | Cat
I like that this has no jelly or fillers. I tried it, it tastes great but ain't overly salty. Chicken may be a little tough but ok for my young cats.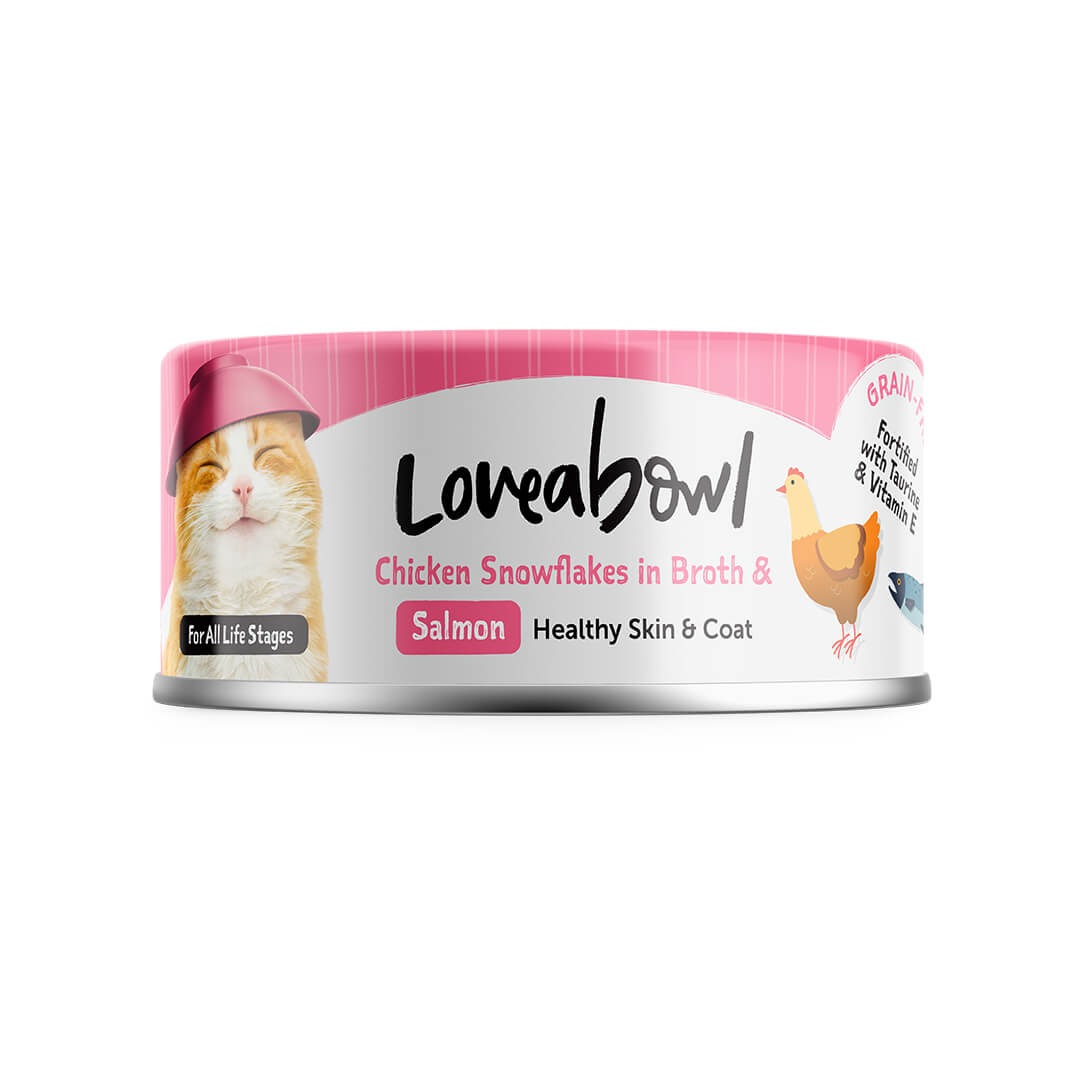 Variation: Chicken Snowflakes in Broth with Salmon | Cat
I like that this has no thickening agent so the chicken shreds come in a broth. Chicken pieces are large and smells good, exactly like the kind that comes in our chicken noodles or mee soto from the hawkers, LOL. The cat likes it. Take note: May be a bit tough to chew for older cats without teeth.
Looking for more delicious recipes for your cat?
Try our dried cat foods.