We may know how to tell that our pets love us, but can they say the same for us? There is literally nothing we won't do for our furry best friends. How do we let them know that life would be so much different without them?
Whether you have cats who behave like royals or dogs who chew on your favourite pair of shoes, it's perfectly understandable that you want to spoil them every now and then. How can we not? They sleep with us every night, love us beyond measure, cheer us up when we're feeling blue, and shower us every day with slobbery kisses.
You don't need to spend a boatload of money to show your four-legged pals just how much you love them. There are plenty of simple, affordable, and creative ways to let your furry BFFs know that life is ten times sweeter with them around.
Scroll through to see how you can shower your pets with copious affection without breaking the bank.
1. Get off the phone
Our pets get hurt when we are easily distracted by our phones. After all, playtime with us is what they most look forward to in their day. It's a feeling akin to playing hide-and-seek with your friends or playing catch with dad when you were little. When you're spending quality time with your furry BFF, put your phone away and be completely involved.
We know the benefits of playing with our pets for ourselves, but did you know that it also helps them too? Active play helps them mentally and physically. It makes their heart healthy, stimulates their brain, and keeps them sharp and focused. It's a win-win! Spending time with your pet with no distraction makes all the difference. Try it!
2. Learn their language
Communication is key to living in harmony with our pets. Sadly, our furry best friends are not mind readers and what's "normal" for us may be a totally foreign concept to them. Pets aren't verbal, but they can still communicate in their own way.
Start with something simple and make it a habit to lean down when you talk or pet your furry pals. "Looming" over them is intimidating and might scare them away (in pet speak, this usually means "I'm in charge and in control"). It's upsetting and frightening and we don't want pets to feel that. Level with your pets and try crouching or kneeling on the floor so your height and stance don't become a threat to them.
There are plenty of ways to understand our pets' language. Watch a tutorial or read a book about what their faces, gestures, blinks, and more are trying to communicate. This way, you can be a good listener and, ultimately, a better pet parent.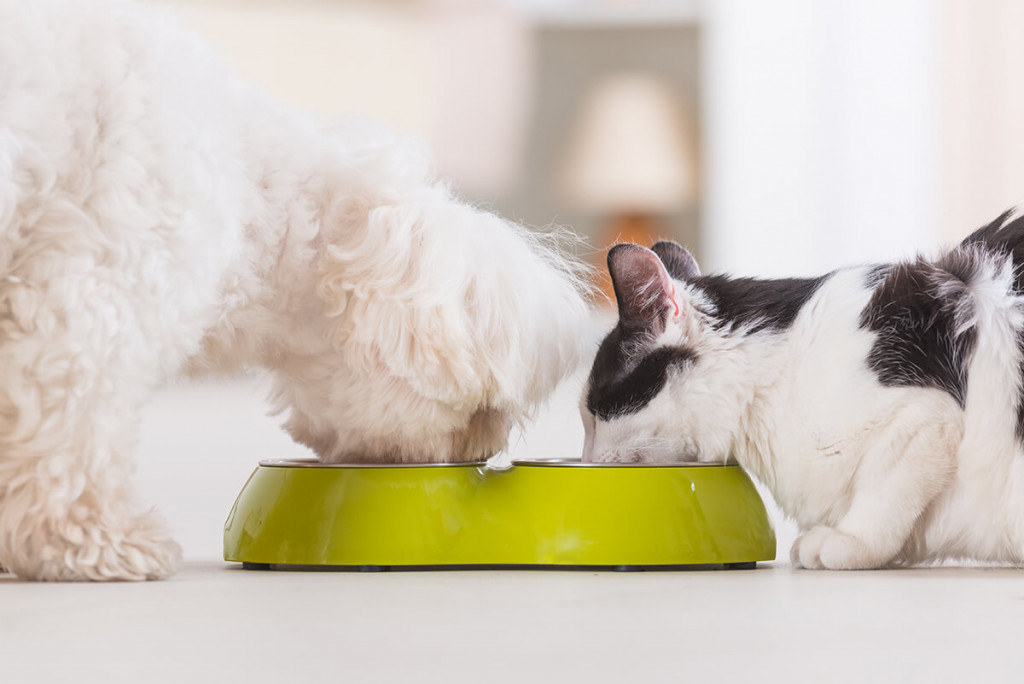 3. Spoil them with delicious food
Food is a fool-proof and tasty way to tell your pets you love them. Spoil them with delicious, yummy, and high-quality pet food.
It's important to give your pets food that is good for their overall health, so make sure they are eating something both delicious and nutritious. Give your pup a variety of kibbles from Loveabowl. They come in three variants: Salmon and Snow Crab, Chicken and Atlantic Lobster, and Herring and Salmon. These yummy kibbles are packed with essential nutrients and protein to keep your pets not just happy but also healthy.
We know cats are fussy eaters and it may be harder to find food for them compared to our pooch. For starters, we recommend Loveabowl's Tuna Ribbons in Broth with Salmon or Chicken Snowflakes in Broth with Shirasu. They are just the right balance of taste and nutrition. You can mix these in with your cat's food for an extra-special meal.
4. Give them a good brushing
Get your pet's coat looking silky and smooth by brushing their hair. This can be soothing to both you and your pets. Not only is it a great way to bond and de-stress after a busy day but it also helps distribute natural oils throughout your pet's fur. Dogs don't groom themselves as obsessively as cats do, so they need a little extra help to spread those natural oils around.
Plus, brushing prevents shedding. The more hair you get off of your dog with a brush, the less hair will be floating around your house!
Do remember that not all pets want to be brushed. If you have a pet who doesn't fancy the idea, start off slow with just a few minutes of brushing. Reward them with a special treat afterward!
5. Take them to the groomers
Cats are natural groomers, but a little professional help wouldn't hurt. Dogs are not keen on DIY self-care, so taking them to the groomers is highly beneficial to them.
Set a "spa" date and take your pet to the groomers for the full treatment. Our pets need to be groomed to remove any excess dirt from their skin that builds up over time. Groomers can also spot possible health problems that may fly under the radar. We really don't want fleas, ticks, or other intrusive bugs bothering our pets.
Don't let your pets feel neglected! This may seem like a small act but it's a big deal to your furry BFFs. Grooming your pets is an essential act of love and compassion. Consistent grooming will make them feel more comfortable and happier in their day-to-day activities.
6. Celebrate their birthday
Grab your party hats and snap some sweet photos! It's time to celebrate your pet's birthday! If the date is unknown, it's usually the day we brought them home. Birthdays only happen once a year, no need to hold back. Let's thank our fur babies for their unconditional love and affection, and shower them with new toys and treats. They will not only appreciate all the attention, but they will also enjoy it for sure.
And besides, one pet year is equivalent to seven human years, which means seven times the celebration! (Well, the math isn't really that simple, but you get the point!) We promise, you'll appreciate looking back on them with tears in your eyes as the years go on.
7. Exercise with them
All pets need a little exercise. Cats need to play (no, swinging from drapes does not count), dogs need to run, and even hamsters need their daily spin on their cute little wheels.
Just because cats don't run up to us with a ball in their mouths, doesn't mean they don't want to be played with. Cats like chasing things so why not challenge them with a game where they can hunt? Try a fishing pole toy that has feathers or other items attached to it. Make sure there are no loose little parts they can choke on. Allow your cat to win now and again. There's a chance they will get bored and lose interest if you don't. This is exercise and play rolled into one.
A fenced yard is a safe place for pups to run and play, but large fields and rolling hills can make a world of difference for them. Large open spaces allow them to run free and release pent-up emotions. Dog walking a mile or more a day will benefit both you and your pooch by building strength, endurance, burning calories, and breathing fresh air.
Show your beloved pup extra love with a daily dog walk. You'll both reap the benefits.
8. Give their beds a good cleaning
Pets can be dirty, hairy, and stinky. They can't help it. Unlike us, they can't clean up after themselves and they can't throw their dirty stuff in the wash. What better way to show our love than to freshen up their bed? Keeping their bed, blankets, and toys clean reduces possible allergens and bacteria. It's a healthy habit for both your pets and your family.
9. Have a snuggle time
Between work, house chores, and an ever-growing to-do list, cuddling with our pets is often overlooked. We know that dogs are friendlier and that cats are fiercely independent, but they too sometimes crave human touch. Giving your pets affection empowers and makes them feel loved and secure.
The next time your pet is aggressively trying to get your attention, stop what you're doing and give them a snuggle. While you're at it, shower them with kisses too!
10. Take them to a professional photoshoot
Raise your hand if you have thousands of pictures of your pets but still can't get enough. But maybe it's high time to give our phones a break and bring our furry pals to a photoshoot!
Booking a professional pet photoshoot gives you beautiful, high-quality photographs of your pets that will last a long time. It's a fun and memorable experience that you and your furry companions will never forget.
These are tailored for you and are usually available indoors or outdoors, depending on what theme you like. Professional photographers are skilled and have plenty of tips (and treats!) up their sleeve to make sure it's a happy experience for you and your pets.
In a time where everything is digital, printed photos are more meaningful.
Show your pets some extra love today by keeping them active, healthy, and snuggled! After all, this will make them happy and their happiness is yours too! Remember to make time for your pets and let them know just how grateful you are and how much they mean to you.