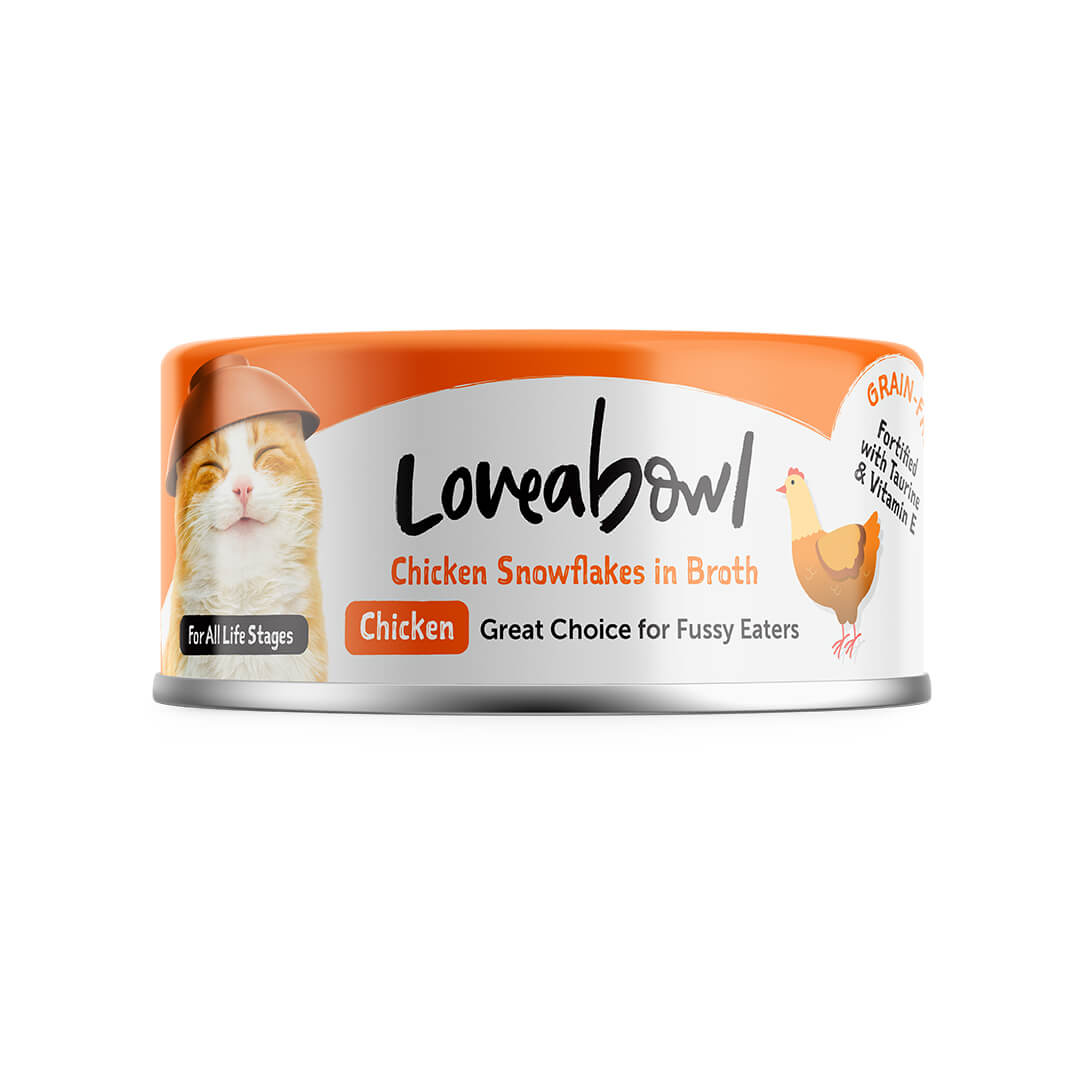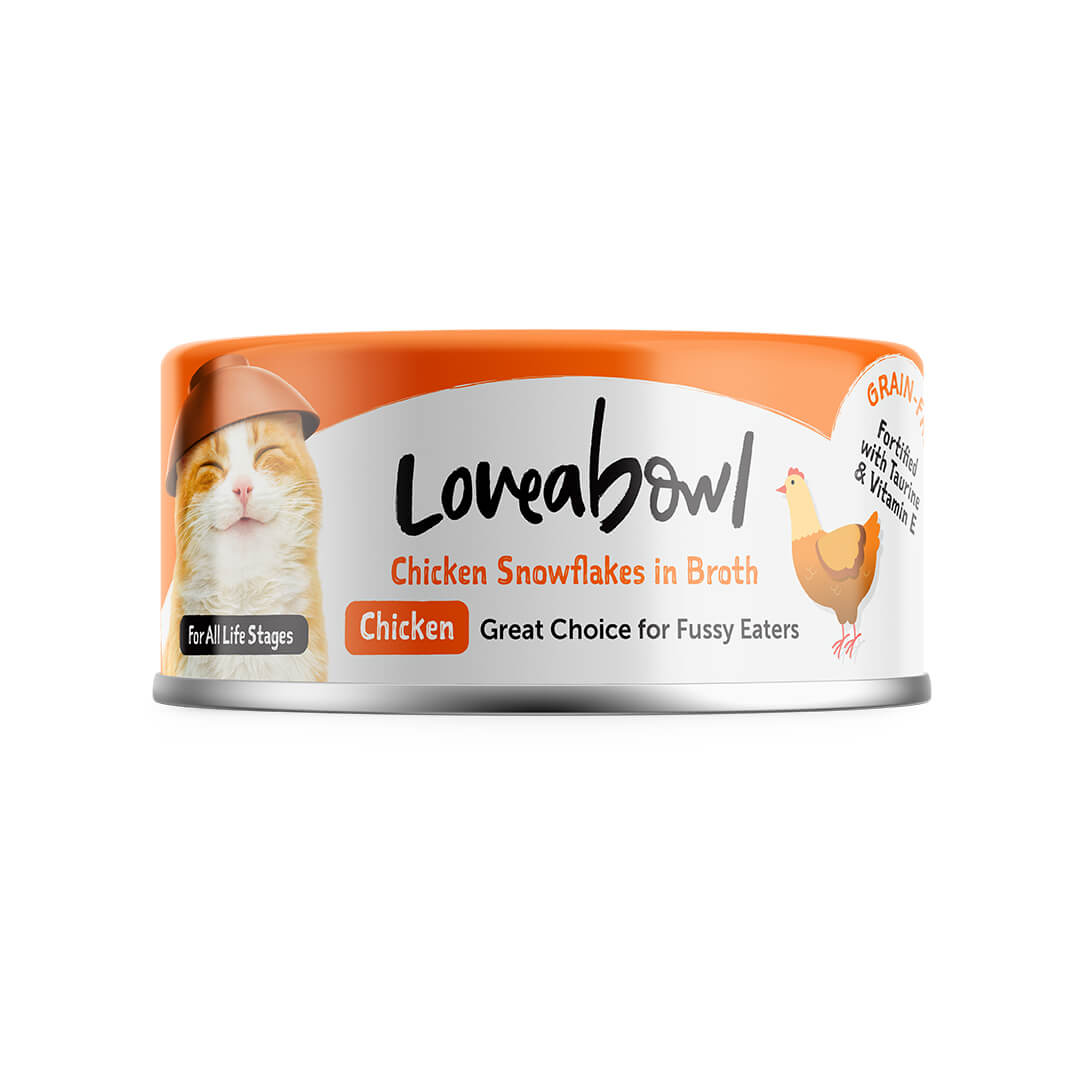 Chicken Snowflakes in Broth
For Cats at All Life Stages
Give your kitties the nutrition they need with this natural food that contains no grains, carrageenan, and thickening agent. Supplemented with Taurine & Vitamin E, it's a great choice for even the fussiest eaters. Rest assured that your pets are provided with everything they need to stay healthy and nothing they don't.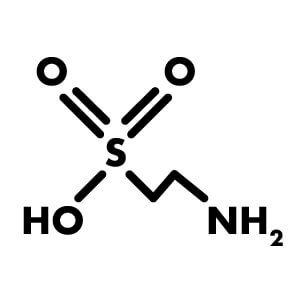 Fortified with Taurine
No GMO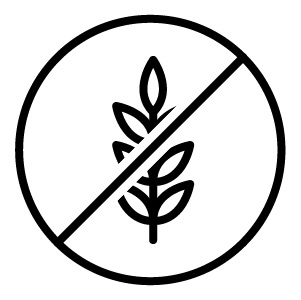 Grain Free
Benefits
Key Benefits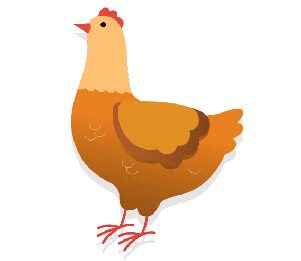 Chicken
A great source of protein that contains Omega-6 fatty acids amd Glucosamine. Good for skin and coat health.
Additional Benefits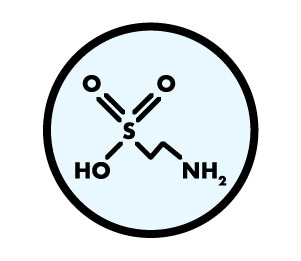 Taurine
An amino acid that is critical for normal heart muscle function and good eyesight.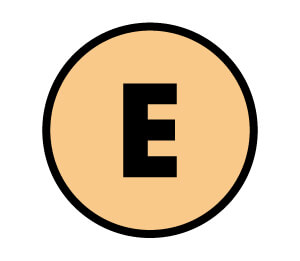 Vitamin E
Essential for the optimal health of cats.
Ingredients
Chicken, Broth, Vitamin E and Taurine.
Guranteed Analysis
Crude Protein (Min) 11%
Crude Fat (Min) 0.6%
Crude Fibre (Max) 1.0%
Moisture Content (Max) 85%
ME (kcal/100g) 59
Feeding Guide
Recommended Daily Feeding
| Weight(kg) | Feeding Amount (g/day) |
| --- | --- |
| 1.0 – 3.0kg | ¼ – ¾ can |
| 3.0 – 5.0kg | ¾ – 1¼ can |
| 5.0 – 8.0kg | 1¼ – 1¾ can |
| 8.0 – 10.0kg | 1¾ – 2 cans |
The amount fed can be adjusted according to your cat's activity level.
Feed your cat by dividing all daily meals into 2 or more servings and ensure fresh clean water is available at all times.
Our Loveabowl cat wet food, though delicious and nutritious, is NOT A COMPLETE DIET.
We recommend that you pair it with our complete & balanced Loveabowl kibbles to provide all the nutrients your cat needs.
Product Reviews
6 Rating(s)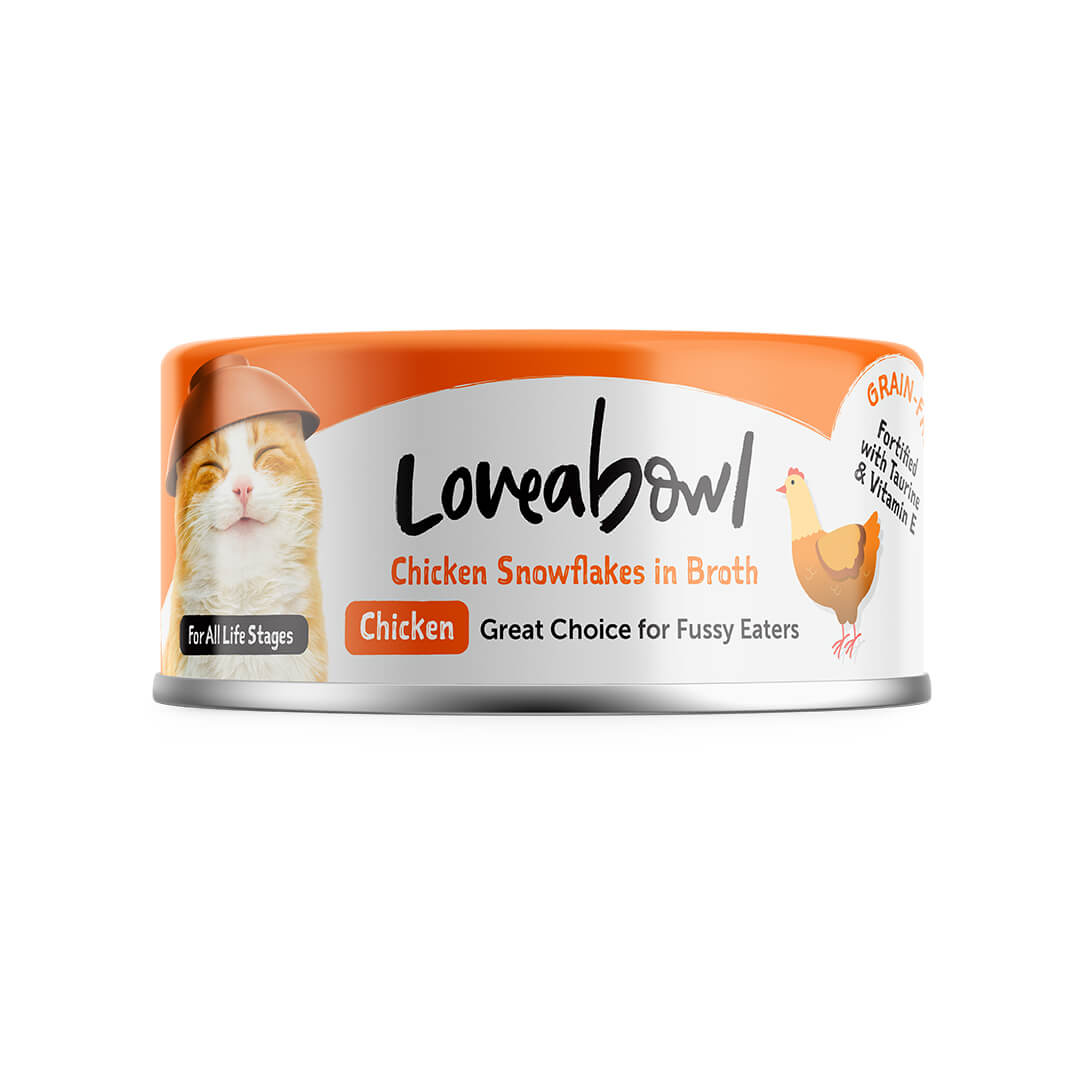 Variation: Chicken Snowflakes in Broth | Cat
Love this brand! The ingredients are clean, the kitties finish every bit of it and it looks human-grade too :) They're pretty indifferent across flavours though.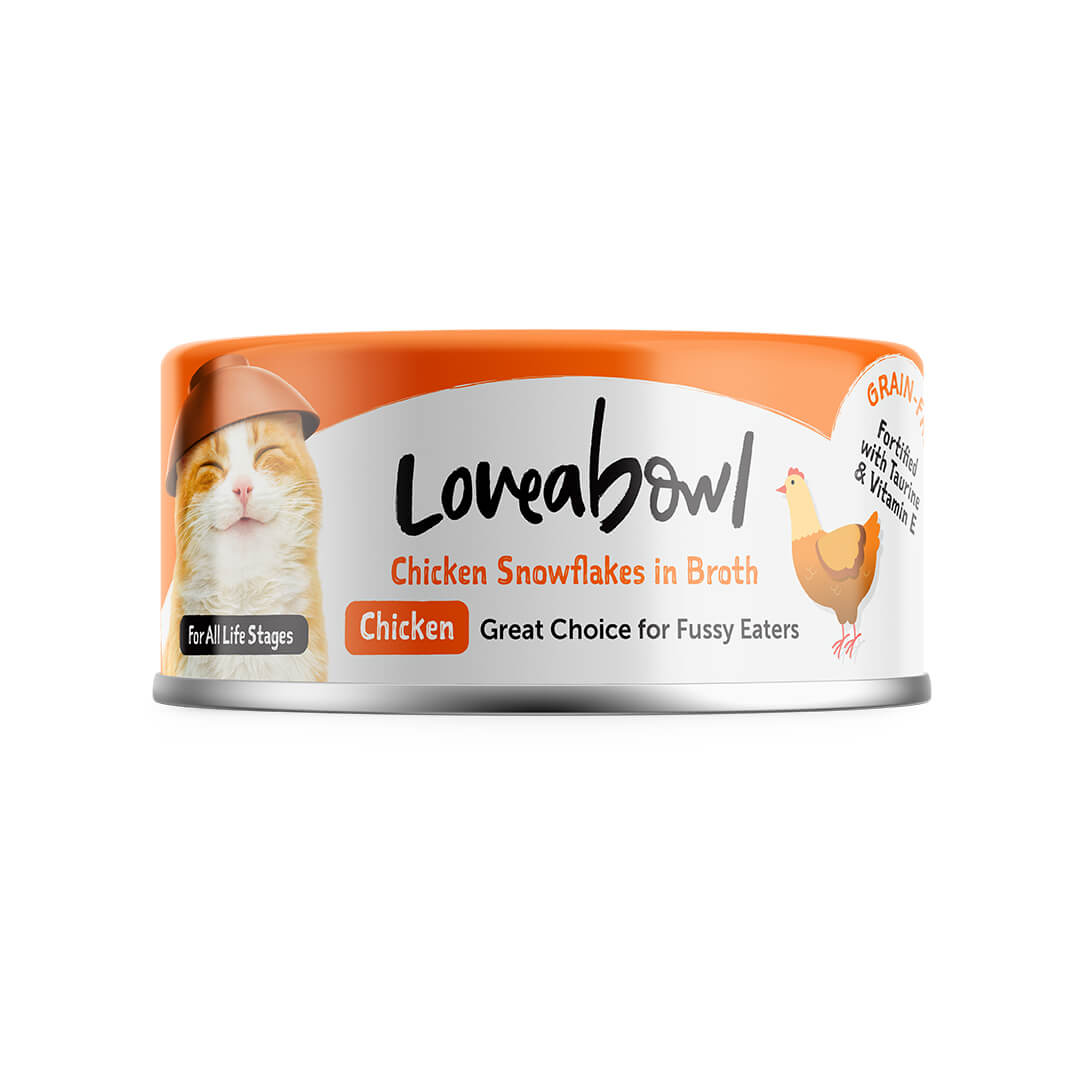 Variation: Chicken Snowflakes in Broth | Cat
First time purchase, My cat seems to like it pretty much! Could be because it's just chicken… 🤣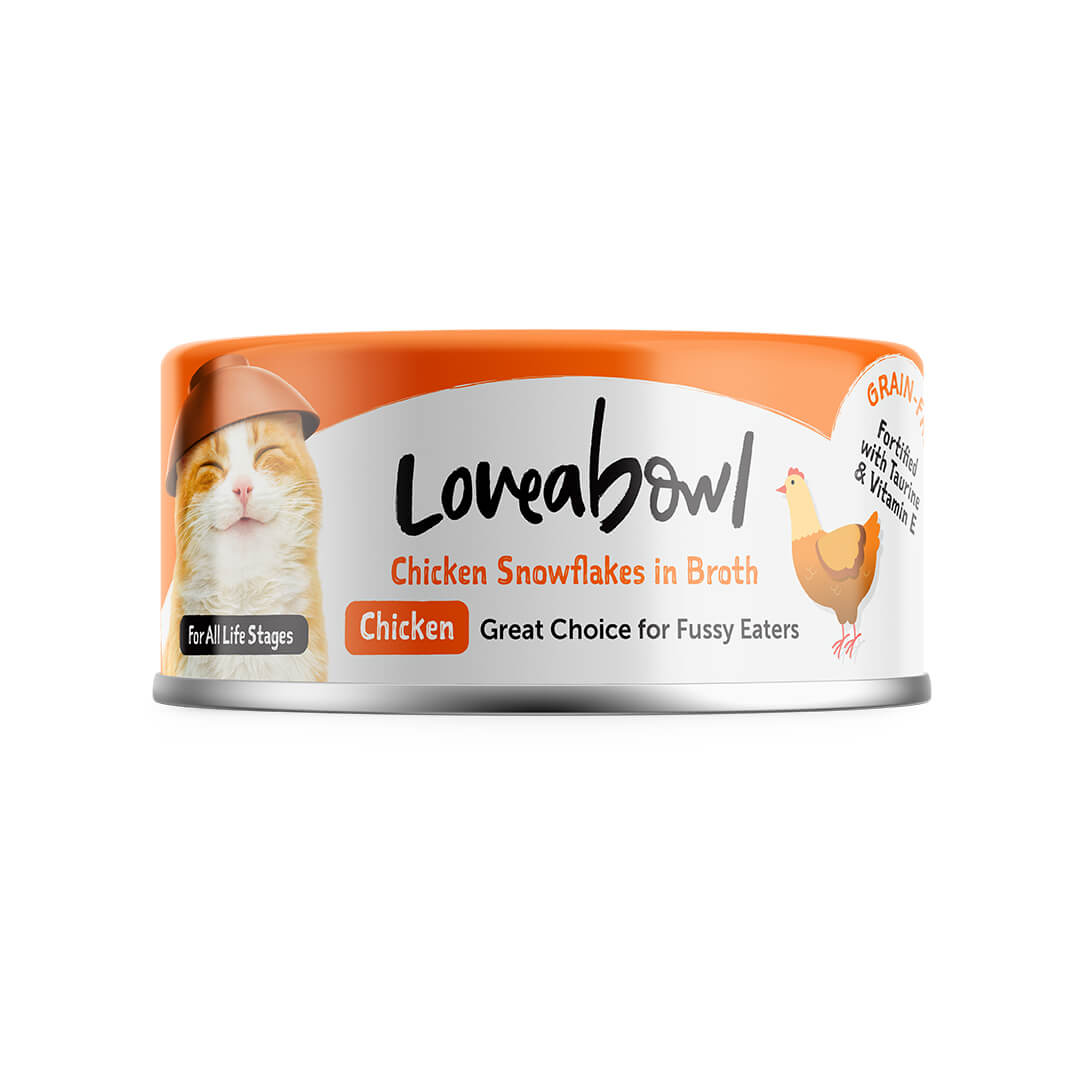 Variation: Chicken Snowflakes in Broth | Cat
I like that this has no thickening agent so the chicken shreds come in a broth. Chicken pieces are large and smells good, exactly like the kind that comes in our chicken noodles or mee soto from the hawkers, LOL. The cat likes it. Take note: May be a bit tough to chew for older cats without teeth.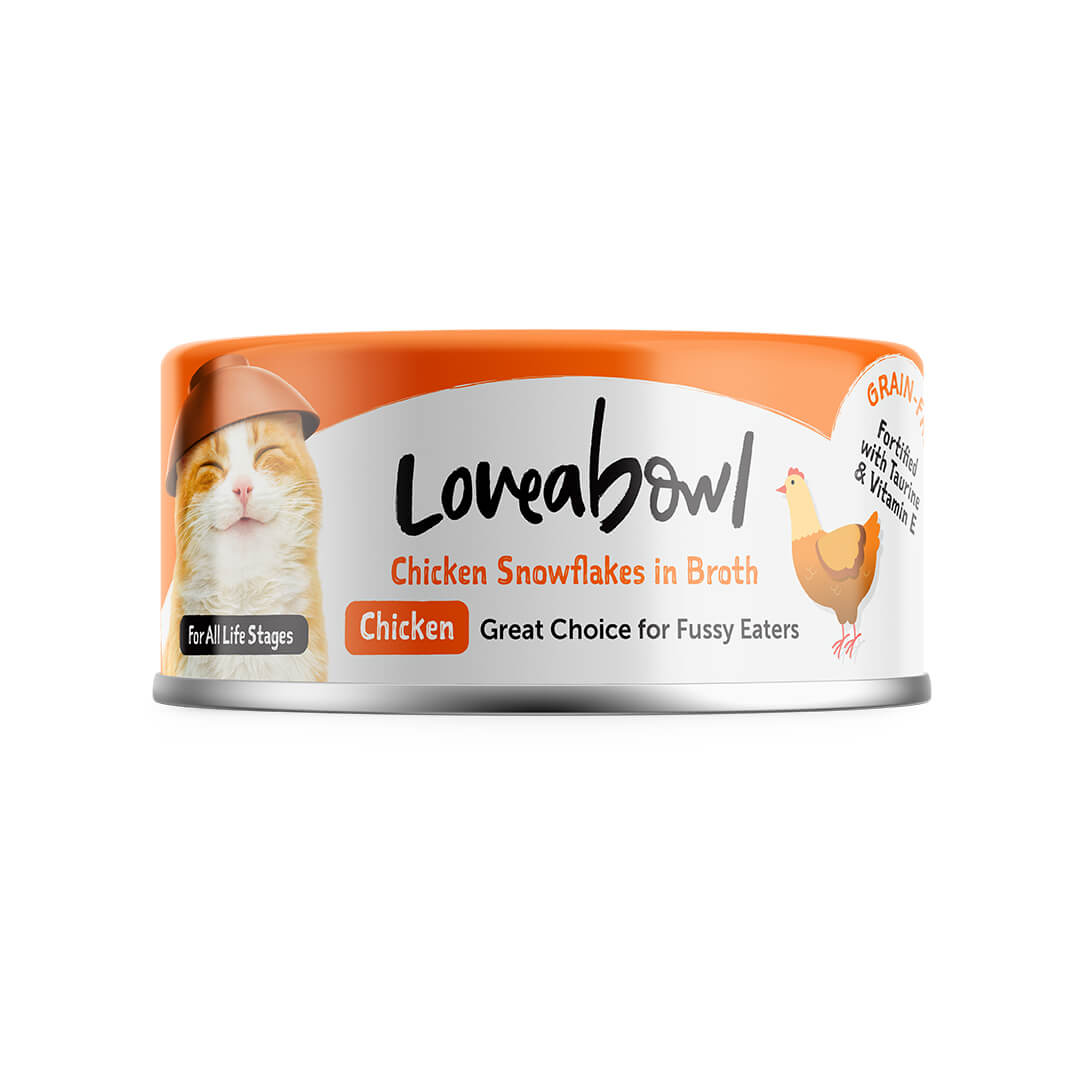 Variation: Chicken Snowflakes in Broth | Cat
My cat finished the whole can in a jiffy. Meat looked like it was good quality.
Looking for more delicious recipes for your cat?
Try our dried cat foods.